Original Article

Open Access
Site fidelity and population structure of blue land crabs (Cardisoma guanhumi Latreille, 1825) in a restricted-access mangrove area, analyzed using PIT tags
Helgoland Marine Research
2018
72:1
Received: 7 August 2017
Accepted: 20 December 2017
Published: 4 January 2018
Abstract
Understanding the patterns of displacement and site fidelity in blue land crabs (Cardisoma guanhumi Latreille, 1825) has important implications for their conservation and management. The central objective of this study was to analyze seasonal variations in site fidelity in C. guanhumi, a species that is intensively exploited in Brazil, in spite of being part of the Official National List of Critically Endangered Species. This species currently suffers multiple severe threats, such as overharvesting and habitat destruction. C. guanhumi were sampled monthly at four fixed sectors that were delimited at the upper fringe of a restricted-access mangrove at Itamaracá Island between April 2015 and March 2016. One thousand and seventy-eight individuals were captured, measured, sexed, weighed, and their color patterns registered. Of these, 291 individuals were tagged with PIT (Passive Integrated Transponder) tags. Ninety-seven individuals (size range 27.0–62.6 mm carapace width) were successfully recaptured, totaling 135 recapture events. The largest interval between marking and recapture was 331 days. Through the use of mark-recapture-based models, it was possible to estimate the local population as being 1312 (± 417) individuals (mean density 2.23 ± 0.71 ind. m−2). Considering the mean density of burrow openings and individuals, there were 3.4 burrow openings per individual. C. guanhumi showed a clear philopatric behavior. Seventy-seven percent of recaptured individuals were recaptured in their sector of origin, and the remainder in an adjacent sector. Site fidelity was higher in females. Males showed minimum site fidelity in October, which is most likely related to be the onset of the reproductive season. The present study opens new perspectives for the definition of reproductive seasons, based on seasonal changes in behavior, and thus to improve the conservation of exploited and severely threatened species.
Keywords
Cardisoma guanhumi PIT tagsMark-recapturePhilopatric behaviorDiel and seasonal activity patternsMangroves
Background
Many animals identify home ranges that they use for foraging, shelter [1, 2] and for reproduction [3]. Philopatric behavior, i.e., the tendency to prefer, stay in or return to a specific site, has consequences for many areas of biology and ecology, for example in population dynamics [4], sexual selection [5], orientation [6] and conservation [7].
Various species of decapod crustaceans clearly define a home range for foraging and shelter, the regularity and magnitude of dispersion being linked to the balance between the intensity of territorial and philopatric behavior, foraging ranges, reproductive migrations, and exploitation of new habitats [8]. Carnivorous crabs (Carcinus maenas) may affect the structure of local oyster beds through philopatric, site-specific predation [9]. Ocypodid ghost crabs [10, 11], lobsters [12] and tropical land crabs [13] have the ability to return to the same sites after foraging, thus showing a strong philopatric behavior.
Cardisoma guanhumi Latreille, 1825 (the blue land crab, locally known as guaiamum, goiamum or guaiamu), is a brachyuran belonging to the Gecarcinidae family, which inhabits the supralittoral upper fringes of mangroves, grass fields, shrubs and forests [14]. It occurs from Florida (USA), to the state of Santa Catarina, Brazil [15, 16].
Being considered a herbivore–detritivore, its diet has been reported to include insects, carrion, feces and even members of its own species [15, 17]. The blue land crab plays an important role as a source of income and food for local people in the Caribbean and Brazil [15, 18, 19] and has a high socio-economic and socio-cultural importance in the Brazilian northeast [20].
Cardisoma guanhumi is a gregarious species, where these crabs build deep burrows or galleries in sandy and muddy soils and does not usually share them [15]. The burrows are deep and tortuous [21, 22], always extending into the groundwater [14].
Individuals of C. guanhumi tolerate environments that are highly contaminated with household waste, sewage and chemical contaminants of water and soil [22]. Adult C. guanhumi can withstand high levels of acidity, salinity and hypoxia [23].
Despite the probable advantage over many other species regarding pollutant tolerance and soil type preference, this species is severely threatened by human interventions such as overharvesting and the destruction of its coastal and estuarine habitats.
Several studies have addressed specific aspects of the biology of C. guanhumi [14, 24, 25], as well as population aspects [26]. Yet, there are no studies on the seasonality of individual behavior or small-scale site fidelity for this important land crab. The hypothesis that C. guanhumi returns to its home site after foraging excursions is of great ecological and socio-economic interest. Is site fidelity equal between males and females? How are these crabs distributed in their home ranges? Are there seasonal variations in site fidelity, that may be related to climatic and reproductive cycles?
In recent years, there has been a sharp decline in the populations of these brachyurans in Brazil. Thus, in 2004, this species was included in the "Brazilian List of Aquatic Invertebrates and Overexploited or Threatened Fishes" [27]. Ten years later, C. guanhumi was listed in the "Official National List of Endangered Species" as a "Critically Endangered" species [28], remaining in this category until the present day.
In order to study animals in natural environments, it is often necessary to mark them individually. More recently, PIT (Passive Integrated Transponder) tagging was used for several crustacean species: Macrobrachium rosenbergii and Cancer magister [29]; Paralithodes camtschaticus [30, 31]; Ucides cordatus [32]; Birgus latro [33] and Cardisoma guanhumi [18, 34]. The latter studies investigated large-scale spatial displacement and abundance of individuals at different sites in Puerto Rico.
In this study, we investigated the small-scale site fidelity of C. guanhumi using PIT tags and tested the existence of seasonal patterns of site fidelity in these crustaceans, as well as possible differences between sexes. Also, we evaluated the size of the population and the relationship between crab densities and the density and size of burrow openings.
Results
A total of 1078 individuals of
Cardisoma guanhumi
(572 males and 506 females) were captured and measured. Most of the individuals captured were adults, with less than 1% juveniles (individuals who had the abdomen completely joined to the carapace = 14 individuals, i.e., 0.8% of the sampled individuals). Carapace width (CW) ranged from 20.9 to 70.0 mm, with a mean of 43.5 mm (median 44.05 mm; Fig.
2
). As for weights, there was a variation between 0.04 and 162.0 g, with a mean of 45.9 g (median: 44.0 g).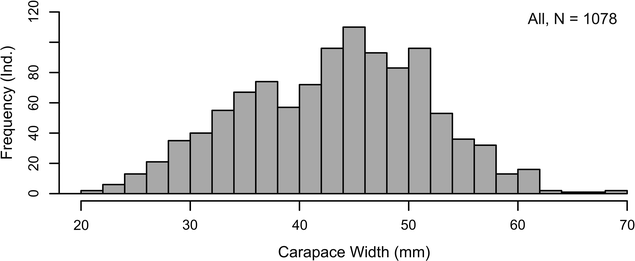 Discussion
This study demonstrated a clear seasonal pattern of varying site fidelity in C. guanhumi, that is most likely related to its reproduction cycle. Site fidelity is a key strategy for land crabs, where using the same site can reduce the risk of predation due to the optimized use and taking permanently possession of burrows and other shelters, and enhance the efficient long-term use of food resources in their territories. In contrast, migrating animals can completely extinguish local resources, such as in insects and herding mammals. Many fish and invertebrates define a constant home range except for seasonal reproductive migrations [43]. The existence of seasonal migrations was observed in this study, for the first time, for this species, based on mark-recapture data.
Conclusions and outlook for the conservation of blue land crabs
The scarcity of studies on the biology and population dynamics of C. guanhumi may hinder the implementation of important measures for the conservation and management of this resource. The maintenance of protected areas and refuges for this species are essential, especially considering their fidelity to specific sites.
Technological advances, such as marking devices, allow us to contribute to the knowledge on activity patterns of these animals. The data obtained with PIT tagging offer a robust approach to evaluate site fidelity in adults of C. guanhumi. Juveniles and individuals smaller than 20.0 mm are rare, and remain a major challenge to capture.
This study was the first to use PIT tags in C. guanhumi to show seasonal changes in behavior, that are related to the reproductive cycle. Evaluations of the reproductive cycle are usually based on the examination of gonads only [25, 62, 70] and not on changes in behavior, which is what actually affects the vulnerability of a species to overharvesting.
Mature males and females were found from November to February by Silva [62], while Shinozaki-Mendes et al. [25], observed maturation of females in August, but females and males during the reproductive period between November and December. These gonad-based studies only showed detectable changes in the gonads of C. guanhumi in November, 1 month later than the behavioral changes detected in the present study.
For the sympatric mangrove crab Ucides cordatus, the closure period is defined considering the well-known and easily observed reproductive mass migration (known as "andada" or "andança"), in addition to analyses of the gonads [71]. To date, there are no conclusive data on a possible "andada" events for Cardisoma guanhumi, except for anecdotal accounts from interviewed fishermen [72]. The present study cannot conclusively determine whether there is such a yearly mass migration event in C. guanhumi, but has contributed with new impulses on the study of seasonal behavior of this species.
According to the present results, male individuals showed less site fidelity (i.e., more motility) in October, which makes them more vulnerable to overharvesting during this month. Motile animals that are wandering around far from their burrows are much easier to catch, as observed during the "andada" of the sympatric mangrove crab Ucides cordatus.
It is suggested, thus, to adjust the current legislation to such seasonal activity patterns, e.g. by changing the period of closure from December to March for October to March. To implement additional months of closure, exactly at the peak activity and thus vulnerability, would greatly enhance the efficiency of protection of this species.
The approach used in this study opens new perspectives for the definition of reproductive seasons, based on seasonal changes in behavior and not through the analysis of gonads only, and thus to improve the conservation and management of stocks of exploited and severely threatened species.
Abbreviations
PIT:

passive Integrated Transponder
CW:

carapace width
BD:

burrow diameter
Declarations
Authors' contributions
This study is part of the M.Sc. thesis of the first author, who collected the samples, conducted the analyses, interpreted the data and wrote the manuscript. RS assisted with the analyzes, figures and the writing of the manuscript. Both authors read and approved the final manuscript.
Acknowledgements
The authors thank the Center for Aquatic Mammals (CMA/CEPENE/ICMBio) for local support and for the authorization to perform this study in their mangrove patch, especially to Fernanda Niemeyer, Gláucia Sousa and Fábia Luna. To the Brazilian System of Authorization and Information in Biodiversity - SISBIO for the permit no. 43255-1. Special thanks to the people who are part of UFPE's Zooplankton Laboratory for their help during fieldwork and to all who have somehow helped in this work.
Competing interests
The authors declare that they have no competing interests.
Availability of data and materials
The data supporting the conclusions of this paper are available in the mainpaper.
Consent for publication
The authors declare that they agree to publish in this journal.
Ethics approval and consent to participate
All samples were collected in compliance with Brazilian state and federal environmental laws (Permit MMA/ICMBio/SISBIO No. 43255-1).
Funding
This project received financial support from the National Council for Scientific and Technological Development - CNPq through project 471038/2012-1 (ST- ESPLAN-Tropic). The Foundation for Support to Science and Technology of Pernambuco - FACEPE provided a scholarship for DFMC, RS received a productivity fellowship from CNPq.
Publisher's Note
Springer Nature remains neutral with regard to jurisdictional claims in published maps and institutional affiliations.
Open AccessThis article is distributed under the terms of the Creative Commons Attribution 4.0 International License (http://creativecommons.org/licenses/by/4.0/), which permits unrestricted use, distribution, and reproduction in any medium, provided you give appropriate credit to the original author(s) and the source, provide a link to the Creative Commons license, and indicate if changes were made.
Authors' Affiliations
(1)
Programa de Pós-Graduação em Biologia Animal, Federal University of Pernambuco (UFPE), Recife, Brazil
(2)
Department of Oceanography, Federal University of Pernambuco (UFPE), Recife, Brazil